Pest Control Services Miami, FL
Residential Pest Control Services Miami-Dade & Broward County
Since 1984, Krypton Pest Control has been providing residential pest control services to homeowners in Miami-Dade & Broward County. Krypton Pest Control provides green-organic pest control services & supports all environmentally safe Pest Control Treatments & Practices. Whatever the pest problem may be, you can always count on our experienced and trained technicians to provide you with a professional pest solution. Whether it be ants, roaches, spiders, crickets, mice or rats, our technicians have you covered.

PEST CONTROL MIAMI, PEST CONTROL FT. LAUDERDALE, PEST CONTROL POMPANO BEACH, PEST CONTROL PEMBROKE PINES, PEST CONTROL HOLLYWOOD, FL.
What to Expect from Our Pest Control Services in Miami, FL & Broward County:
We perform a thorough, initial pest inspection inside and outside your home.
We identify any existing issues and build a customized program for your home.
We eliminate any existing pest problems.
We inspect and seal off any new entry points on every visit.
We make targeted Pest Prevention treatments to the outside of your home.
FULL YEAR PEST CONTROL SERVICES MIAMI, FL
Pests are active year-around. That means you need protection year-around.
Our custom treatments adapt with the seasons to address seasonal pest activity in your area, giving you protection all year long.
We'll come back to re-treat outside your home every season for a total of four treatments, including the initial service.
And if pests come back, so will we - at no cost to you. It is all a part of our 100% Satisfaction Guarantee.
Bed Bug Extermination
A bed bug is able to cause a number of health effects, including skin rashes, psychological effects and allergic symptoms. Bed bugs are a rapidly growing public health threat. It is very important to have an experienced exterminator handle any bed bug infestation. We offer many solutions to bed bug infestations, including tent fumigation services. All our treatments are thorough as possible. We only begin after we remove the bedding, disassemble the bed, empty all nightstands, pull up carpet edges and vacuum.
Rodent Control
Modern methods of rodent control include traps and poisoned bait. Our staff has the experience and skill needed to handle your rodent control problem in a time and affordable manner. We use Talon-G, which is formulated and designed to reduce hazard to you and your family. When placed in inaccessible areas and in tamper-proof bait stations, there is minimal risk to non-targeted animals and humans.
Cockroach Control
Cockroaches live in nests. As such, killing a few roaches that happen to wander into a trap is an inadequate means of controlling the pest. It is best to have an experience pest control company handle any cockroach infestation that occurs in your home. We are fully equipped to handle any cockroach infestation.
Ant Control
The pavement ant, yellow crazy ant, sugar ants, the Pharaoh ant, carpenter ants, Argentine ant, odorous house ants, red imported fire ant and European fire ant are all ants that are classified as pests. If you are having issues with any of these pests please contact us.
Carpenter Ants Control
When a carpenter ant colony invades the wood of a house, they can damage its integrity. Any wood in contact with the ground can be a source of entry for carpenter ants. If you have a carpenter ant infestation, please contact us.
Mosquito Control
Krypton Pest Control, Co. offers cost-effective methods for mosquito control. Through the XMOSQUITO system, we are able to provide a complete, affordable solution to keeping unwanted mosquitoes, flies and gnats away. This system is custom designed to fit the needs of any unique landscape or outdoor area.
Silverfish Control
Silverfish are quite a pest when they are able to make their way into homes, because they eat glue, paper of any kind, including books, sugar, coffee and even clothing. If you find a silvery color bug that resembles a fish, please call us because you have a silverfish infestation.
Spider Control
Most spiders will only bite humans in self-defense, and few produce worse effects than a mosquito bite or bee-sting. However, many spiders in South Florida are dangerous and can be a major pest for homeowners. If you have a spider problem, please contact us.
GAIN PEACE OF MIND
Same Day Pest Control Available
When it comes to pest infestations, we know you want the problem taken care of immediately. Our prompt & professional team will eradicate pests as fast as we can. We even offer same day pest control services!* *If you call before noon (M-F)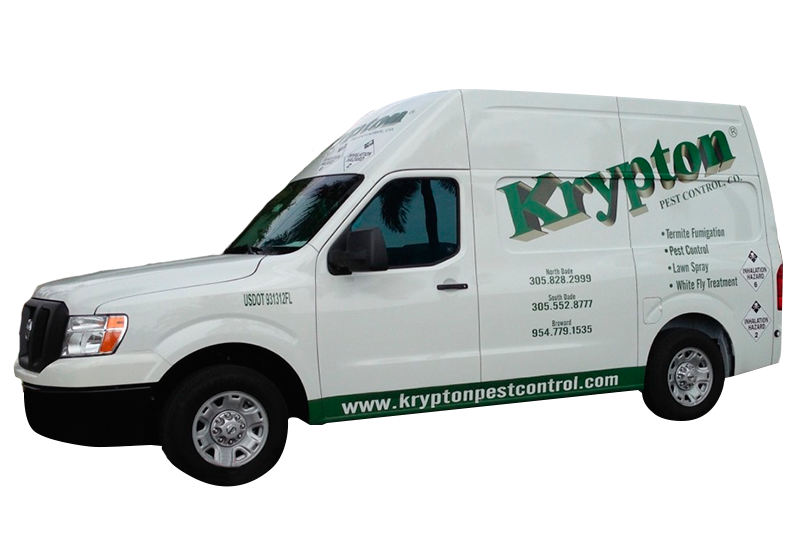 TESTIMONIALS
What Are Clients Are Saying
" Wonderful company to work with. Reached out about tenting and that same Friday the tent was up. They arrived in a timely manner the day of and suggested I remove a couple more items from the house..."
" These guys are great, special thanks to Santiago and supervisor Michael, was kind of worried in the beginning as I always go with companies that are recommended, everything went smoothly."
" On April 27th our condo was tented by Krypton. The salesman came to the meeting and explained in detail how to get ready before tenting. We also received information in writing. "
" The crew was very professional, polite and respectful (short on English) but not an issue. Company called as ahead as promised and showed up within the time frame and adhered to my requested time."
" After months of working with inexperienced exterminators we finally found Krypton Pest Control service that knows the difference between black varied ants and black carpet beetles."
" I highly recommend this company. I have several rental apartments and use them regularly to keep pest out of the units. They work with my tenants schedule and are very flexible. I also use them to..."
" Armando and his team are dedicated to positive customer service. They are on time and communicate with homeowners during the whole process. Good prices for great services!!!"
PEST SOLUTIONS
We Protect You From Over 50 Pests
Is a mystery pest bugging your household? If you're not sure what kinds of pests you have, it can be hard to know what you need to do to solve the problem. Get your answers here using our guide to common pests in South Florida. Krypton Pest Control can help you identify that mystery pest and can get rid of them for good.
VIEW ALL
SCHEDULE YOUR FREE PEST INSPECTION TODAY!
Tell us how we can help you get back to being bug-free!