IT'S EASY
Schedule your FREE Pest Inspection Today!
Pest Control Services Miami, FL

Krypton Pest Control Services in Miami is a company specializing in the elimination of drywood termites, subterranean termites and other wood-destroying pests in Miami, FL. Our Pest Control company in Miami, FL excels in the area of termite tenting Miami, Pest Control Miami, Bed Bug Removal Services, pre-construction pest control Miami, quarantine fumigation and animal removal. Our quality control standards go above and beyond state-established requirements for fumigators and exterminators in the Miami-Dade and sorrounding Broward County and Palm Beach areas.
Termite Control Services Miami, FL
We offer the following termite removal and control services in Miami, Florida: Tent fumigation services, spot treatment pest control, subterranean and drywood termite treatments, termite baiting, boat treatment fumigations, Real Estate Pest Control Services, pre-construction soil treatments, Bee Removal Services in Miami and Fort Lauderdale, Florida.
Affordable Pest Control Services Miami, FL
Krypton Pest Control removes ants, roaches, spiders, fleas, ticks, white flies and more. Click here for our Pest Learning Center. We also remove all types of rodents. We do trapping and bee and wasp removal.
Bed Bug Removal Services Miami, FL
Krypton Pest Control's bed bug removal services are safe. They kill the entire cycle. Our bed bug removal services in Miami is environmental friendly. We do same day bed bug removal services in Miami and Broward County as well. Our Bed bug removal programs are cost effective and very affordable.
GAIN PEACE OF MIND
Same Day Pest Control Available
When it comes to pest infestations, we know you want the problem taken care of immediately. Our prompt & professional team will eradicate pests as fast as we can. We even offer same day pest control services!* *If you call before noon (M-F)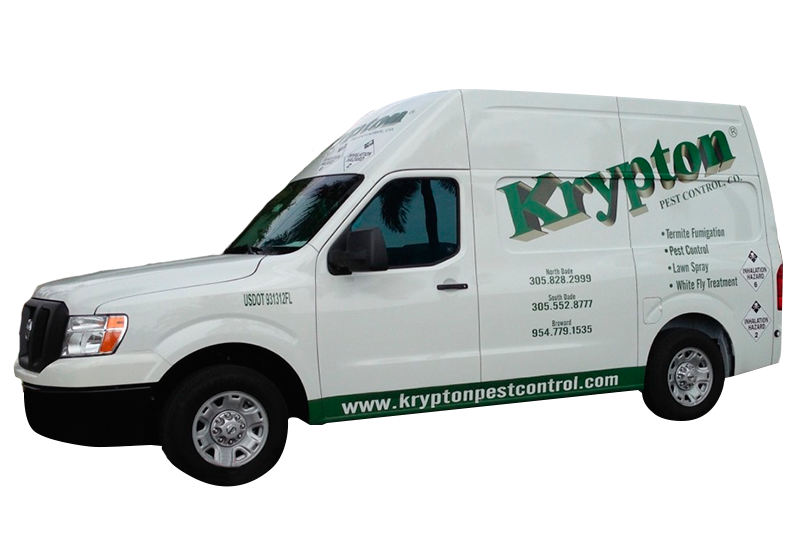 TESTIMONIALS
What Are Clients Are Saying
" Wonderful company to work with. Reached out about tenting and that same Friday the tent was up. They arrived in a timely manner the day of and suggested I remove a couple more items from the house prior to them beginning. They came back in Saturday & Sunday to check on everything and I was able to go back in the house on Sunday. "
" These guys are great, special thanks to Santiago and supervisor Michael, was kind of worried in the beginning as I always go with companies that are recommended, everything went smoothly. Would recommend. "
" On April 27th our condo was tented by Krypton. The salesman came to the meeting and explained in detail how to get ready before tenting. We also received information in writing. I saw how all the guys were working it was amazing how they all worked as a team. I had cash money in the drawer they opened which I forgot to do (all drawers had to be open) and no one touched the money, that showed me it's a company you can trust. "
" The crew was very professional, polite and respectful (short on English) but not an issue. Company called as ahead as promised and showed up within the time frame and adhered to my requested time. Over the 3-day period, ALL details were accomplished in a timely manner. Will highly recommend to others. Shout outs to Gregory Laidler and his team. Thank you Krypton...."
" After months of working with inexperienced exterminators we finally found Krypton Pest Control service that knows the difference between black varied ants and black carpet beetles. They are very friendly staff took time to listen to my situation and reviewed several options with me. I'm delighted that there are smart exterminators left."
" I highly recommend this company. I have several rental apartments and use them regularly to keep pest out of the units. They work with my tenants schedule and are very flexible. I also use them to treat my home and my ficus trees. My ficus look great and my home is pest free. As ficus owners know they can be a challenge to maintain, thank you Krypton. "
" Armando and his team are dedicated to positive customer service. They are on time and communicate with homeowners during the whole process. Good prices for great services!!!"
PEST SOLUTIONS
We Protect You From Over 50 Pests
Is a mystery pest bugging your household? If you're not sure what kinds of pests you have, it can be hard to know what you need to do to solve the problem. Get your answers here using our guide to common pests in South Florida. Krypton Pest Control can help you identify that mystery pest and can get rid of them for good.
VIEW ALL
SCHEDULE YOUR FREE PEST INSPECTION TODAY!
Tell us how we can help you get back to being bug-free!